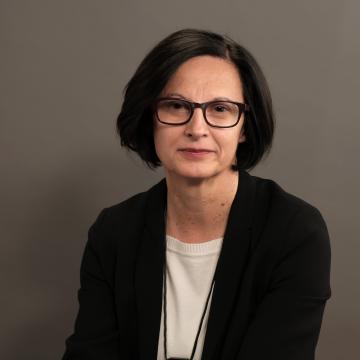 Department of Sociology
Prof. Milica Antić Gaber
Red. prof. dr. Milica Antić Gaber (1958), sociologinja; zaposlena na Oddelku za sociologijo FF UL, od leta 1992 kot mlada raziskovalka in od leta 1998 kot predavateljica predmetov Obča sociologija, Sociologije spola, Sociologija vsakdanjega življenja na 1. stopnji; Sociologija spola in spolnosti (skupaj s prof. dr. Kuharjem) in Spol in telo in Spol in politika v primerjalni perspektivi na 2. stopnji in koordinatorica programa Študiji spola (za FF) na skupnem programu doktorskega študija Humanistika in družboslovje (UL); v štud. letih 2003–2007 je bila predstojnica Oddelka za sociologijo.
Vrsto let je raziskovalno delala na Mirovnem Inštitutu v Ljubljani ter predavala na Institutum Studiorum Humanitatis v Ljubljani in Centralno evropski univerzi v Budimpešti. Kot gostujoča predavateljica je predavala na Centru za ženske studije v Beogradu, Inter-University centru v Dubrovniku, Centru za ženske študije Univerze v Novem Sadu ter kot raziskovalka gostovala na Birkbeck Collegeu v Londonu in na Univerzi Pompeu Fabra v Barceloni.
Sodelovala je pri več raziskovalnih projektih, povezanih s feministično politično teorijo, prisotnostjo žensk v politiki, državljanstvom in spolom, spolom in nasiljem, tako doma kot v tujini; koordinirala je mednarodni projekt Evropske komisije (Daphne II) »Načini uveljavljanja evropskih direktiv o nasilju nad ženskami, mladostniki in otroki, dobre prakse in priporočila«. Sodelovala je pri mednarodnem projektu » The Electoral gender quota systems and their implementations in Europe« (vodila: Drude Daherup). Vodila je tudi dva nacionalna temeljna raziskovalna projekta: »Usklajevanje zasebnega in profesionalnega življenja kot ovira za številčnejšo prisotnost žensk v politiki« (2008-2012) in "Spolna strukturiranost sodobne slovenske družbe in položaj spolov v politiki". Njeni raziskovalni interesi so: ženske študije in feministična teorija, feministična politična teorija, ženske v politiki, spol in globalizacija, spol in nasilje, spol in migracije.
Njeno javno delovanje obsega številna področja:
članica uredniškega odbora revije Delta (in njena soustanoviteljica, 1995);
članica uredništva Družboslovne razprave (2006–2009 in 2011- 2016);
so-ustanoviteljica in so-urednica revije Ars et Humanitas (od leta 2007-2011);
članica uredniškega odbora revije Teorija in praksa (2010 – );
pod-predsednica Ekspertne skupine "Mainstreaming Equality Between Women and Men" pri Svetu Evrope (1995-1998);
članica Ekspertnega Foruma Evropskega Inštituta za enakost spolov EIGE (European Institut for Gender Equality);
ko-direktorica Mednarodnega seminarja "Žene i politika" v IUC Dubrovnik (International Seminar Women in Politics);
predsednica Slovenskega sociološkega društva od 2010-2016;
Članica Strokovnega sveta za enakost spolov pri Ministrstvu za delo, družino socialne zadeve in enake možnosti (MDDSZ) (od 2015 -.)
so-direktorica seminarja "Social structures and social institutions" na IUC Dubrovnik (2016 – );
članica Izvršnega odbora Evropskega sociološkega združenja (ESA) (2017 – ).
Kot avtorica, soavtorica ali (so)urednica je objavila več monografij, med njimi:
1. Ženske v parlamentu, Znanstveno in publicistično središče, Ljubljana 1998.
2. Ženske, politike, možnosti: perspektive politike enakih možnosti v Srednji in Vzhodni
Evropi, (skupaj z Vlasta Jalušič) Ljubljana: Mirovni inštitut. 2001
3. Women in Parliamentary Politics. Hungarian and Slovene Cases Compared, (skupaj z
Gabriella Ilonszki), Mirovni Inštitut, Ljubljana 2004.
4. Pozabljena polovica: portreti žensk 19. in 20. stoletja na Slovenskem, (Razprave, 22).
1. izd. Ljubljana: Tuma: SAZU, 2007 (Šelih, Alenka, Antić Gaber, Milica, Puhar, Alenka,
Rener, Tanja, Šuklje, Rapa, Verginella, Marta.
5. Violence in the EU examined: policies on violence against women, children and youth
in 2004 EU accession countries. Ljubljana: Faculty of Arts, 2009.
6. Brez spopada: kultur, spolov, generacij. V Ljubljani: Pedagoška fakulteta, 2009.
(Tašner, Veronika; Lesar, Irena; Antić Gaber, Milica; Hlebec, Valentina; Pušnik,
Mojca; ur.).
7. Dan s političarko: pilotni projekt mentoriranja mladih žensk v politiki. Ljubljana: Vlada
Republike Slovenije, Urad za enake možnosti, 2011, str. 19-28. (Milica Antić Gaber in
Jasna Jeram, ur.)
8. Na poti do lastne sobe. Ljubljana: i2, 2011.
9. Ženske na robovih politike, (Zbirka Refleksija, 2011, 3). Ljubljana: Sophia, 2011.
10. Nasilje nad ženskami v Sloveniji, (Zbirka Dialogi, letn. 14). 1. izd. Maribor: Aristej,
2013. (Leskošek, Vesna; Antić, Milica G.; Selišnik, Irena; Filipčič, Katja; Urek, Mojca;
Matko, Katja; Zaviršek, Darja; Sedmak, Mateja; Kralj, Ana).
11. Odraščajoča publika: osem esejev o vlogi gledališča za otroke in mladino v sodobni
družbi, (Zbirka Gledališče in vzgoja, 1/2013). Ljubljana: Lutkovno gledališče: Assitej,
Center za kulturno vzgojo na področju uprizoritvenih umetnosti, 2013. (Djilas, Ivana
Gaber, Slavko, Marjanovič Umek, Ljubica, Wood, David, Mencin Čeplak, Metka,
Antić, Milica G., Reginster, Gaëtane, Pelević, Maja, Bauk, Dino).
12. Zahtevna razmerja: spol, strukturne ovire in priložnosti, (Zbirka Razprave FF). 1. izd.
Ljubljana: Znanstvena založba Filozofske fakultete, 2015.
13. Gender structuring of contemporary Slovenia, (Eastern European culture, politics
and societies). Frankfurt am Main: P. Lang, 2015.
14. Začasno bivališče: Na grad 25, Ig: življenjske zgodbe žensk na prestajanju kazni
zapora. Ljubljana: Javna agencija za knjigo Republike Slovenije, 2017.
Celotna bibliografija je dostopna na tem naslovu.
Compulsory Courses
Elective Courses