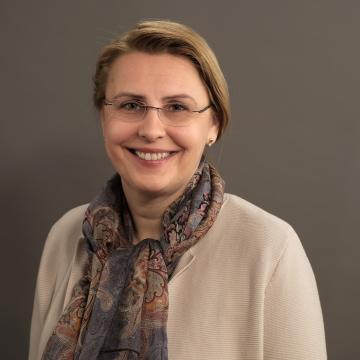 Office hours
Mon, 29 May, 8:00-8:45
Mon, 5 June, 9:00-9:45
Between 12 June and 16 June office hours are cancelled.
Cabinet
24A
Department of Translation Studies
Prof. Nike Kocijančič Pokorn
I studied French and English at the University of Ljubljana. After completion of my BA studies in 1992, I continued studying at the University of Ljubljana and fisnished my MA in English mediaeval literature in 1995. In 1999 I defended my PhD thesis on directionality in literary translation, and in 2001 my doctoral dissertation was awarded the EST Young Scholar Prize. From 1993 to 1999 I was a young researcher at the Department of Germanic languages and literatures (later Department of English), teaching translation. From 2000 until present day I have been working at the Department of Translation Studies at the University of Ljubljana. In 2012 I established together with colleagues from the universities in Turku, Tampere, Granada and Istanbul the international Doctoral and Teacher-Training Translation Studies Summer School (DOTTSS), at which I have been participating with lectures and tutorials ever since. I was a guest professor at the Department of Translation Studies at the University of Graz (2005), worked as a Fulbright scholar at Kent State University, Ohio, USA (2016), and as an international senior research fellow at Durham university, UK (2019). My research interests include translation history, directionality in translation, translation ethics and public-service interpreting and translation. Currently I am president of Slovene Association of Translation Studies STRIDON and the general editor of STRIDON Journal of Studies in Translation and Interpreting. For more information see my personal homepage.